Our family is dedicated to the well being and safety of horses. We are responsible for the care and safety of your horses from the time we pick them up until they arrive on your farm. We are FULLY LICENSED & INSURED with DOT # not to mention Over thirty years of experience in riding, training, and relocating horses has given us great advantage on this new generation of generic haulers . Your horse will be transported in a well ventilated six horse slant, all aluminum Exiss special built trailer, Padded walls and full floor length dividers with a full rumbar floor system ,Rumbar takes away 83% of the vibration for the horses We keep water in front of our horses and fresh hay . So even out in the middle of the New Mexico desert, your horse is happy. And a happy horse means one more satisfied customer. May God Bless you and your horse hauling adventure.
Thanks
Rodney & Brandy Wilbanks
phone:706-202-4365
E-Mail: lonestarranch@windstream.net
notice the absolute full dividers each horse has their own private stall they do not have to be tied ..
| | |
| --- | --- |
| notice the full divided stalls | |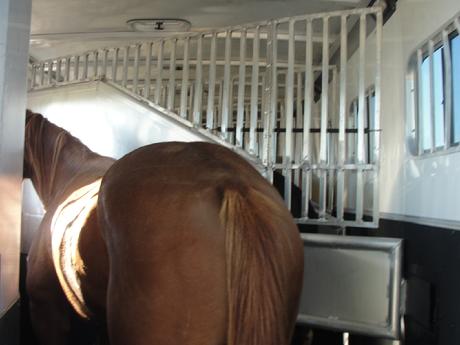 horses can NOT touch each other & do NOT have to be tied..
The Lord has Blessed us with another day.WE will REJOICE & BE GLAD IN IT ..
Dear Mr. Rodney and Ms. Brandy,
Just a quick note to tell you thank you for bringing my horses to me in a safe and fast manor. I have let all my "horse" friends in California know that if anyone is in need of a transporter to contact you. I am very impressed at the condition of my horses upon arrival and your professional manor. I truly thought they would be really under weight. I am also impressed with how you handled all the horses, not just mine. You handled them all as if they all belonged to you, for this I am truly blessed that I found you. May GOD watch over you both and bless you. Thank you, again.
Roseanne 601-833-2151
Bakersfield ,CA to Brookhaven,MS
March 2011

Hi Rodney, you transported a friesian for us just about a week ago. The family and I wanted to say thank you for transorting our girl. Wish I could of got this message to you sooner- We have been stuck on her ever since you brought her here. Darla had said that you where really respectful to all the horses and didnt rush the situation. Thank you for keeping you word and being so safe. If there's good business to send- we'll be sure to send it your way. Best wish's wishes to you and you family. ~ Safe horse travels.
James Carlson & Family
Rapid City,SD to Prentice,WI
March 2011
Rodney & Brandy , I would like to thank you so much for transporting our 6 horses from Kansas City ,KS to Vero Beach ,FL . You guys did a great job ,on time everything we could ask for~ keep up the good work , Roger & Patsy Burrell ™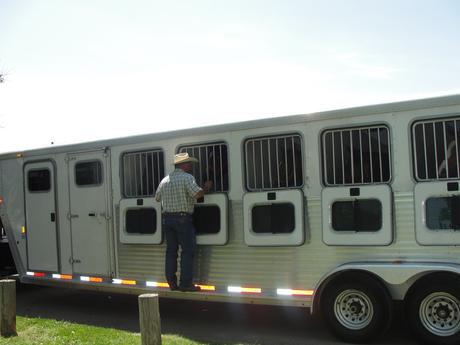 Drop down feed windows for easy access
I would like to thank you for taking great care of my horse while you were hauling her. When you arrived the trainer had nothing but the best comments on how you handled her. I have had a lot of problems in the past with shippers and I must admit I can't find one fault in your business. Great communication, genuinely concerned about the safety of my horse and on-time pick-up and delivery. Actually even a little early! I definitely will keep you in my book for any future hauls I have and will refer you to all my friends needing a shipper.?
Sincerely,
Tracy Wren
Chesaning, Michigan

Rodney & Brandy thanks so much for transporting my 3 mares from ID to TN you did a wonderful job my horses were in great shape when they arrived . Thanks for contacting me each day as the trip progressed I will be in touch next time I need horse transport & will gladly recommend you all to my friends that need horse transport . Amanda Richardson ,Chattanooga,TN